Las Vegas is known from far and wide as the gambling capital of the world and whenever someone thinks of this oasis in the Nevada desert, they picture poker tables and casino games. The world famous Las Vegas Strip with its sights, sounds and carnival atmosphere – especially during the World Series of Poker festival between May and July – is one of the most iconic cityscapes on the planet and sees a  continual flow of people, from both domestic and worldwide locations, looking to sample the atmosphere and win big at the poker and blackjack tables, as well as the roulette wheel and slot machines.
However, gambling is not all that Las Vegas is, as it offers a vast array of other attractions and things to see and do. The following list details our top ways to be entertained outside of casinos in Las Vegas, you might be surprised how many other great things there are to do – we were pleasantly surprised. After our fantastic Orlando holiday we headed to Vegas and here's what we found.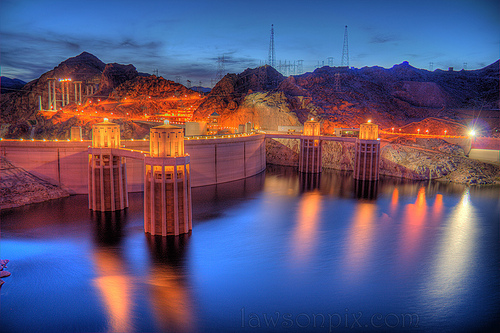 Once you've had your fill of playing cards at the poker and blackjack tables and your arms hurt from spending hours at the one-armed bandits and other slot machines, there is nothing more enjoyable than getting out of Las Vegas and taking a day trip to see the local sites. Two of the best places to visit are the Hoover Dam and Nevada's oldest and largest state park, The Valley of Fire. Both of these wonders are located within an hour's drive of the city, while if you're looking to go further afield the Grand Canyon can be reached within six hours. All three offer fantastic scenery and are a must visit if you're looking to avoid the hustle and bustle of gambling for a day or two.
There are plenty of extreme pursuits available in Las Vegas with the more popular activities involving being in the air. For those not confident enough to jump out of a plane at 15,000 feet there is an indoor sky diving arena located on the Strip that allows you to experience the thrill of jumping out of a plane without the possibility of your chute not opening for a reasonable price. On top of this there are several helicopter experiences you can take too, with the most favoured ones being a flyby of the Strip itself, while others allow you a much better way to view the Grand Canyon on top of avoiding the six hour drive.
As well as their massive casino areas, the Las Vegas hotels offer a number of areas where shows are performed and can be viewed on regular occasions. Vegas is almost as renowned for its shows as its gambling activities and there is something for everyone to watch in the heart of the Nevada desert with full on productions available to see to vast amounts of comedy as well as musicals, magic shows and, of course, the world famous Cirque de Soleil and Blue Man Group performing all year round. Whatever you prefer to see away from the poker tables, there will be something for you to enjoy at any time in the gambling capital of the world. So make sure you book ahead to guarantee you get tickets for the hottest shows in Vegas.
Everyone has to eat and there is no better place to get your fill of the finest quality food than Las Vegas! If you're looking to grab something to eat then dinner at the Top of the World revolving restaurant provides unparalleled views of the city and the Strip, while both the Bellagio and Caesars casinos offer some of the tastiest seafood menus around. The Bouchon Bakery is a place that is perfect for a light bite to eat or kill an afternoon by taking one of their world renowned baking classes and bring the skills for making their famous pastries and cakes back home with you.
While Vegas is most famous for being the home of gambling, there is so much more to see and do in and around this gambling Mecca, so there is no excuse to ever be bored in the scorching heat of Nevada.